When John Ringling, of Ringling Brothers fame, left his hometown and Circus headquarters in Baraboo, Wisconsin, he referred to the townsfolk as "hick Barabooians." I found the people there friendly and helpful, and when the toothless town bum spotted me taking a picture of the historic Al Ringling Theatre on the town square, he was thrilled to point out Al Ringling's redbrick house before asking me for change. Baraboo is steeped in Circus history and is home to the Circus World Museum, but that's not why I drove 3 hours from Chicago. I was here because I had that audacity to set one of my plays here. Why? I like the town's name: Baraboo. Say it. It's fun.

This isn't the first time I've abused a small Wisconsin town in one of my plays. I named a horrible fictional disease after Peshtigo, Wisconsin because the town burned down in 1871 and I liked the grisly details of the fellow who hung himself in a well rather than be burned alive, or following the fire, the thief who was sentenced to death for looting, but got out of that pickle because all rope to hang him with was burned up. I even called the Peshtigo Chamber of Commerce to find out how to pronounce the town's name because if you look at it, there are three possibilities. The woman who answered my call was amused I couldn't pronounce Peshtigo correctly because ignorance is funny. It's not Pesh-TIE-go. Nor is it Pesh-TEE-go. But PESH-tigo.

I wanted a change of scenery and get a feel for Baraboo, Wisconsin, population: 10, 971. The morning drive up there was pleasant, rush hour traffic out of Chicago was as cooperative as a good bowel movement, and the Eric & Kathy morning show on The Mix 101.9 FM still doesn't fail to annoy the crap out of me. Around 8am I passed through Beloit, Wisconsin, which, by the way, is "The Gateway to Wisconsin"—did you know this? I didn't. Somebody needs to give Kenosha, WI a call, because I always assumed their acres of outlet malls were the Gateway to Wisconsin—some Beloit radio station had one of those "Dumb People Are Funny" segments about a woman who successfully faked her death to get out of all her traffic tickets… until she got caught speeding posthumously. The DJs had a good morning-drive guffaw and I only wish I had thought of the Fake My Own Death route to get out of that speeding ticket I got in Utica, NY last summer.

There's not much scenery along the way. It's all vague and vast and forgettable, much like my English major in college, but the billboard signs that advertise Wisconsin Dells attractions provide the Entertainment Weekly reading material to the scenic equivalent of the endless Wisconsin landscape of Chaucer and Milton. The exit for Baraboo/Portage has one of the sharpest, fastest clover-leaf exits I've ever experienced, and after nearly flipping my car into a drainage ditch, I end up on a country road toward the promised land, if, by promised land, I mean Baraboo. I drive past houses, decrepit and serene, I drive past farms and grain silos, I drive past Pigtail Road, and I wonder who lives up there. Pippi Longstocking? Wendy the fast food huckster? Yo mama? (if, by Yo Mama, I mean your mother, if she wore pigtails).

Nine miles later, I putter into Downtown Baraboo. It has a town square the way Hill Valley in the Back to the Future movies has a town square. There are the obligatory military cannons parked on the lawn in front of the town hall. I park the car and stand on the sidewalk, dumbly. I don't have an agenda. It's 10am and I'm hungry. Nothing is open for lunch yet. I walk around. The aforementioned Al Ringling Theatre: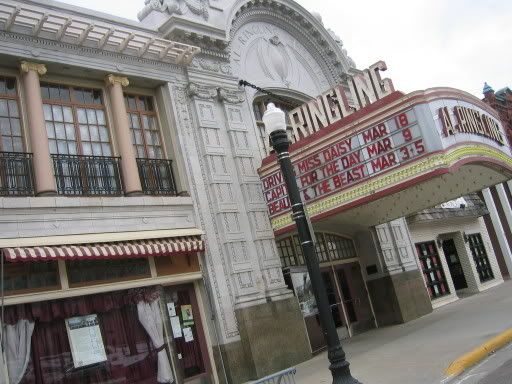 I buy a couple circus postcards in the drugs store. I keep expecting Marty McFly to skateboard past. I go into an Irish boutique and gravitate instantly, lush that I am, to the Guinness merchandise and purchase a pint glass. I ask the shop owner where a good place to get some grub is, and she raves about the catfish tacos at The Little Village Café. I am intrigued because I've never had catfish in taco form, and I still haven't, because the pesto-chicken and mozzarella sandwich grabbed me by the throat.

I've been to Baraboo before. I think I was nine or ten years old, and it was part of a summer family trip to the Wisconsin Dells. How does one describe what the Wisconsin Dells are to a person who has never feasted eyes on such splendor? Las Vegas for 12-Year-Olds. Go Karts, Water parks, Mini Golf, in a hodgepodge of tacky splendor. The Dells are about 13 miles north of Baraboo with a Ho-Chunk Casino smack dab between the two, the kind of Casino where certain Wisconsin regulars will carry around a lucky Ziploc baggie of cow-pie for good luck at the craps table. We had come down to Baraboo to visit the Circus World Museum. When I talk about it with my sisters, all they can remember is that it was rainy and cold when we went. All in all, I think we were underwhelmed by the experience, and it isn't quite as visceral of a vacation moment as was the time we were all three crammed in the backseat of a rented convertible in Hawaii, whining and howling about our utter misery, discomfort, and boredom, until Mom, who is actually a very patient woman, completely snapped and thwacked us with a rolled up newspaper. Forget sugar-coated nostalgia. Those are the Kodak moments.

After lunch, I head to the Circus World Museum. I knew even before I left Chicago that the museum is closed for the winter. I parked and walked around the outside. Many of the Ringling Bros. buildings, most built in the late 1800s, are still standing and tagged with historical plaques, buildings for camels, elephants, and bears, oh my. Perhaps this building housed baby chicks?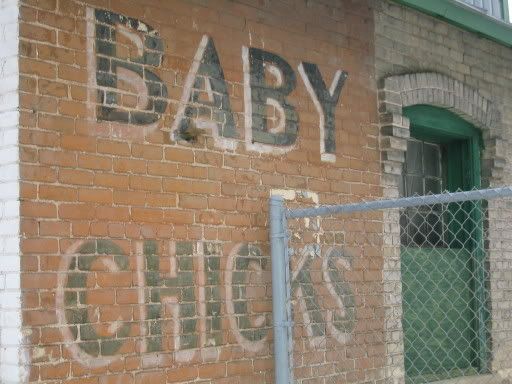 Much of the museum is outdoor stuff—trains and wagons—so I peeped through the fence. Closed or not, creepy circus calliope music floats over the desolate circus grounds. Why was there music? I don't see anyone anywhere. Was this a circus for the dead? Am I dead? Did my car actually flip over and burst into flames in the Baraboo highway exit of doom and this is some sort of circus afterlife? The circus music is unsettling. At one point I fantasize that I'm in a Scooby Doo cartoon and I need to solve a mystery in the creepy abandoned circus. I think my favorite part of the Circus World Museum are the clown-heads that top the garbage cans, so you throw your crumpled up Sno-Cone cup into a clown's mouth, thus fulfilling many clown-haters desires to do that to a real clown.

I got back in my car and followed the signs to Devil's Lake State Park. It's a beautiful area, even with the lake frozen over and covered with snow. Before it became a state park, Devil's Lake was a thriving resort until the late 1800s, but tourism dropped off after people started dropping dead from Typhoid Fever. Right now, it's deserted and looks like the perfect place for a young female tourist like me to be murdered. I leave the park and drive by what I can only assume is the world's best family restaurant.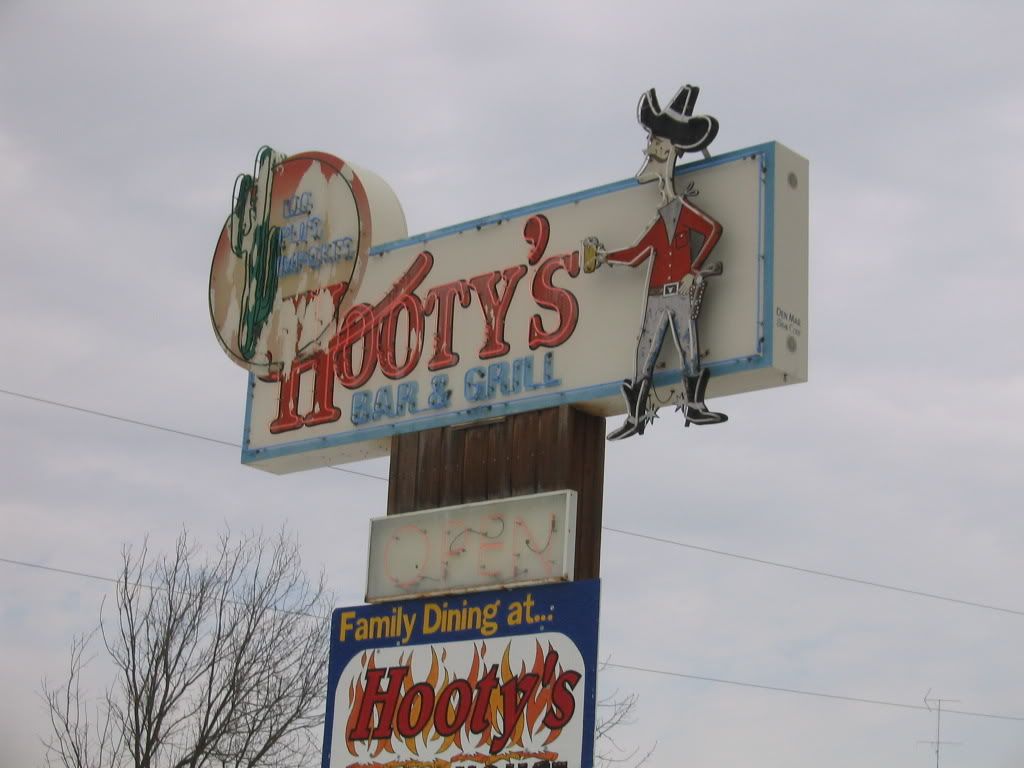 And who can forget the famous Hooty's jingle?

Hooty's Hooty's
Shake your booties
Grab your horns
And blow some tooties!

Really, it's a shame I've already eaten lunch. It's still pretty early in the afternoon. I don't need to go back to Chicago yet. That leaves me only one option: I'm gonna hit the Wisconsin Dells!

Tune in soon for the next chapter of high adventure and swashbuckling romance in Wisconsin, including one of the most bizarre things I have ever seen in my entire freaking life…