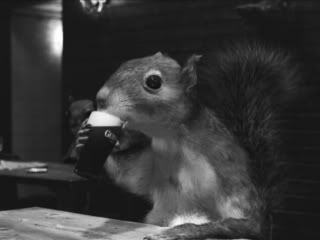 I was sitting in Starbucks this weekend, hammering on my laptop and minding my beeswax when this guy comes up to me and asks:
"Do you want a free haircut?"

A number of thoughts ticker-tape behind my eyeballs.
1) Where? Like in the alley behind Starbucks?
2) I look like I need a haircut?
3) I need a haircut. Good call.
The guy -- Tim -- owns Lather, a decent salon a few doors down. I know it's decent because I've been to his other salon, and also the stylists are tattooed and dyed -- the mark of a stylist I trust to wield scissors near my face. A new stylist had an hour between appointments and Tim wanted to give her some more practice on super straight hair from the skull of someone who looks poor and also wouldn't throw a fit if it wasn't the greatest haircut in the world.
OF COURSE I WANT A FREE HAIRCUT! THAT SHIT'S EXPENSIVE! I shouted in the Starbucks. As I packed up my stuff, the woman sitting at the table next to me said, "He didn't ask ME if I wanted a free haircut." Then she sobbed into her coffee.
Tim sold me on getting some layers so I could be his puppet to demonstrate his layering technique to the very nice, very goth stylist. He said "Jennifer Aniston" to describe the technique and I almost ran out of the salon. But it was fine. Nothing crazy. Dead ends cut off, a little snippity snip. I'm fine. And it wasn't FREE free -- I do tip, after all (tipping Karma), but it was still a shit-ton less expensive than paying for the haircut.
Happy St Patrick's day. May you be solicited for a free haircut while sitting in Starbucks, minding your own beeswax.